August 17, 2012
Case 3: An 80-Year-Old Woman with Atrial Fibrillation and Multiple Cardiovascular Risk Factors - EXPIRED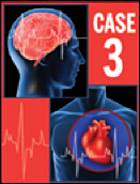 Case 3: An 80-Year-Old Woman with Atrial Fibrillation and Multiple Cardiovascular Risk Factors

Program Description:
In older patients with multiple comorbidities, high risk for stroke, and risk factors for bleeding, nonadherence to anticoagulation therapy is particularly important. With warfarin, INR values may signal poor adherence. With the newer anticoagulation options, assessing adherence may be difficult because of the inability to precisely assess their level of anticoagulation. Educating patients and their families about the importance of adherence, as well as involving them in the choice of therapy and how to optimize adherence, can help maintain desired levels of anticoagulation and prevent stroke.
Activity Objectives:

After taking part in this educational activity, participants should be better able to:

— Employ risk stratification strategies to increase identification of stroke risk in patients with atrial fibrillation (AF) and aid in selection of therapy
— Evaluate the benefits and limitations of anticoagulation therapies to optimize outcomes
— Integrate guidelines for newer/emerging anticoagulant therapies into patient care for stroke prevention in AF, including pharmacoeconomic considerations
— Develop strategies to improve patient counseling/education regarding the benefits and risks of anticoagulation therapy
— Provide appropriate care and counsel for patients and their families.

To take this course, go to mycme.com. The log-in information for myCME is the same as McKnight's. Please note that you will need to complete additional registration information.