May 30, 2014
Falco named executive chef for Wind Crest Retirement Community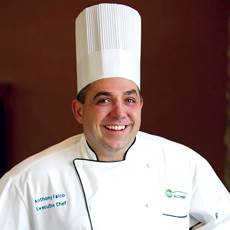 Anthony Falco named executive chef for Wind Crest Retirement Community
Anthony Falco was named the executive chef for Wind Crest retirement community in Highlands Ranch, CO, managed by Erickson Living®.
Previously, he served as the executive chef at Mill River Inn and Tupelo Honey in New York. He also has traveled through Costa Rica, Japan and Thailand to increase his culinary knowledge.
Falco went to Nassau Community College for hotel hospitality and restaurant management, following completing his culinary arts degree at New York Restaurant School. He also trained at Chanterelle in New York City under Chef David Waltuk.