April 03, 2013
Providers reduced hospital readmissions, AHCA progress report says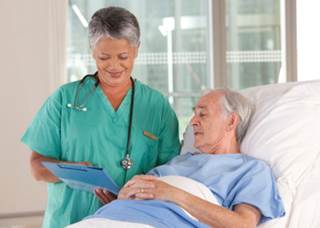 Surveyors will be checking to see how well hospital discharge procedures facilitate SNF transfers
A majority of long-term care providers reduced hospital readmissions and the off-label use of antipsychotics within the last year, according to the American Health Care Association. The organization recently posted a progress report on the AHCA Quality Initiative, which was launched in February 2012.
A quarter of AHCA members have already reached the Quality Initiative goal of reducing 30-day hospital readmissions by 15%, according to data from the OnPoint-30® measure of risk-adjusted rehospitalization data. The Quality Initiative set March 2015 as the deadline for achieving this goal industry-wide. More than half of member providers have seen their rehospitalization rate go down since the fourth quarter of 2011, according to AHCA.
More than half of providers have decreased some off-label use of antipsychotics. Thirty percent of members met the 15% reduction goal in reduction of off-label antipsychotic use by third quarter of 2012. After fourth quarter 2012 data is released later this month, AHCA will calculate how many providers reached the Quality Initiative goal of 15% reduction by December 2012. While it seems clear many facilities will miss this benchmark, AHCA spokesman Greg Crist recently stressed that the 15% goal was ambitious but should continue to be attainable.
The Quality Initiative also set goals of reducing nursing staff turnover by 15% and increasing the number of customers who would recommend a facility to 90% by March 2015. AHCA said it does not yet have enough data to report on whether there is progress on those fronts. However, AHCA's 2011 Staffing Survey Report showed the turnover rate for all nursing staff — including directors of nursing, registered nurses and certified nurse assistants — went up significantly, from 44.9% in 2010 to 52.8% the next year.