April 26, 2016
Wireless wrist blood pressure monitor gives clear results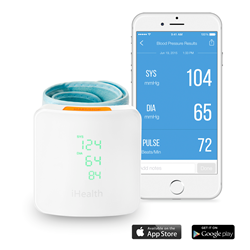 Wireless wrist blood pressure monitor gives clear results
iHealth has created the iHealth View Wireless Wrist Blood Pressure Monitor with a display screen. It is designed to be lightweight and give clear results.
The wrist cuff detects and directs arm positioning, and the user can see results on the device display. The data can be synced with Bluetooth® Smart Ready™ technology.
The iHealth View stores up to 120 measurements before synchronization. Its app keeps track of historical data and provides a graph that allows users to better monitor and manage their blood pressure.
It is available for $100 from iHealthlabs.com and other outlets. The free iHealth MyVitals app can be accessed via the Apple App Store or Google Play.