December 02, 2014
Winscribe Text v7.0 released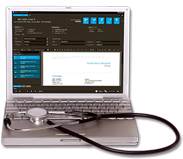 Winscribe Text v7.0 released
Winscribe has debuted the Winscribe Text v7.0, a medical documentation platform meant to help automate document-driven processes.
The product gives "healthcare organizations the ability to achieve faster and more comprehensive documentation and improved data handling, allowing the physicians to focus more time on patient care," says Greg Allen, chief executive officer of Winscribe.
The product allows documentation through speech recognition, digital dictation and self-typing. Healthcare professionals can use report templates and send the reports for review or distribution. Winscribe Text has HIPAA compliant data management and can integrate EHRS through HL7 feeds, XLM or other medical exchange languages.