February 22, 2017
Wheelchair added to mobility line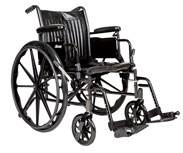 Drive Wheelchair
Drive DeVilbiss Healthcare has introduced the Cruiser II Wheelchair to its Mobility line.
Accessories include anti‐tippers, wheel lock extensions and a seat belt. The wheelchair's seat has a depth extension from 16" to 18", leg rests and flip-back and detachable desk length armrests. The mag-style wheels make for easier maintenance, and the upholstery is easy to clean, DeVilbiss officials note. The frame is carbon steel.
"Drive's best‐in‐class Cruiser wheelchair line expands with the introduction of the new, fully accessorized Cruiser II that will help to improve patient comfort, satisfaction and safety," said Brandon Sykes, product manager of power and manual wheelchairs.