January 10, 2017
Washroom upgrade solutions released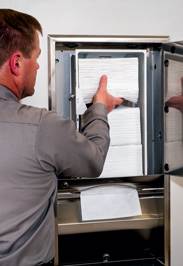 Tork Stainless Washroom Upgrade Solutions
Tork has added Tork Stainless Washroom Upgrade Solutions for customers as cost-effective options for updating restrooms.
This includes the Tork Matic® Hand Towel Dispenser Recessed - with Intuition™ Sensor, which can fit into existing recessed infrastructure. It also lists the Tork Xpress™ Recessed Cabinet Towel Adapters, which has size options that can be attached to a recessed towel cabinet.
The company said the upgrade solutions can eliminate the need for costly renovations, but let customers have improved products and better hygiene. The Tork Matic dispenser has hands-free dispensing.