October 28, 2014
UniMac unveils washer-extractor series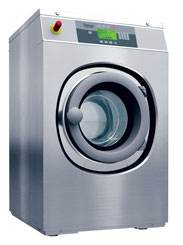 UniMac unveils washer-extractor series
UniMac has introduced its UY soft mount washer-extractor series, available in 20- to 275-pound capacities.
The UY washer-extractors have control systems based on capacity and include multi-language capabilities. They offer 99 programming options and eight liquid chemical connections. They are:
PROform Control—standard on UY20, UY25, UY30, UY40, UY55 and UY70 models
Micro Control—standard on UY90, UY125, UY180, UY230 and UY275 models
The machines extract with a 350-400 G-Force extraction speed. The washer-extractors have stainless steel front, top and side panels and an inverter drive system that delivers low energy use. There is a five-year warranty.