September 27, 2016
Telemedicine solution expands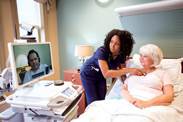 Curavi
UPMC Enterprises has started Curavi Health as a company providing a new telemedicine solution and physician care for nursing homes.
The system was started in 2012 under a Centers for Medicare & Medicaid Services Innovation Grant.
The CuraviCart equipment allows physicians to remotely interact with patients and nursing home staff through a pan/tilt/zoom camera, Bluetooth stethoscope, digital otoscope, document scanner and 12-lead EKG system, the company said. Proprietary CuraviCare software is designed for simple operation by nursing home staff and tailored to their workflow.