October 11, 2016
Tamper-evident cap released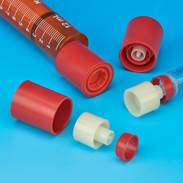 medidose
Medi-Dose Inc./EPS Inc. has released a new tamper-evident cap for metric-only oral syringes.
It will help pharmacists and nurses better adminster oral medication, the company said. Each cap contains a white syringe cap protected by a bright red tamper-evident "break-away" sleeve. Once attached to the syringe, the cap can only be removed when the outer sleeve is broken.
The product is considered ideal for morphine or other oral anesthetics, including controlled substances.
"We're always looking for ways to help pharmacists and nurses streamline their practices but maintain control and protection over the meds they dispense," says Bob Braverman, Medi-Dose/EPS Director of Marketing.