September 13, 2016
Specialty collection released for interiors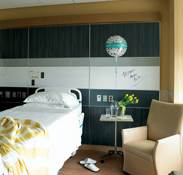 Formica's new collection
Formica Corporation has released its 2017 Specialty Collection. It features Formica Infiniti™, the next generation in surfacing, and dECOLeather™, a recycled leather veneer.
Architects, specifiers, designers and other industry professionals in healthcare are encouraged to consider the options, the company said.
"Our new specialty collection is a perfect hybrid of innovation and beauty. It is both visibly and tactically elevated, allowing for new opportunities and advantages in design and making for surfaces you'll love at first sight and touch," said Renee Hytry Derrington, Group VP of Design for Fletcher Building's International Businesses Division, which includes Formica Corporation.
Formica Infiniti™ features a soft-to-the-touch super matte finish, resists fingerprints and bacterial growth, and has thermal healing capabilities. It is available in all standard Formica® Brand colors.
The new eco-friendly dECOLeather™ "brings sustainable luxury to interiors." dECOLeather™ recycled leather veneer is available in 18 colors and three grained finishes.