June 06, 2017
Priming tray meant to help with life support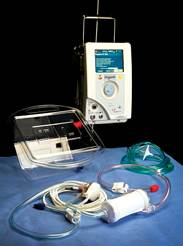 Tandem Life TandemTray
TandemLife has debuted the TandemLife Priming Tray, a product designed to help critically ill patients move onto extracorporeal life support.
Of the 500,000 Americans who need emergent cardiac support annually fewer than 2% receive care with advanced extracorporeal life support, the company said.
While historically only available in intensive care units or ORs, TandemLife said it hopes to change this through its TandemHeart pump and TandemLung oxygenator. TandemLife is based in Pittsburgh.
The product is a single, pre-connected packaging solution that also serves as a priming basin for the system, the company said. The new TandemLife Priming Tray allows providers to move faster.
"In 2012 our team committed to an extremely aggressive program; developing and launching eight new medical devices in four years," said John Marous, President & CEO of TandemLife. "The TandemLife product line is our most important program to date because of its potential to create a much needed paradigm shift in emergent cardiac care. With the addition of the TandemLife Priming Tray, our system can be deployed in five minutes or less, providing both physicians and patients with the most valuable resource of all: more time."