March 22, 2016
Patient monitoring system debuts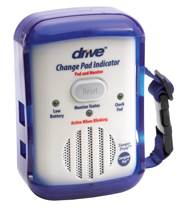 Drive Cordless Monitor
Drive DeVilbiss has created new Patient Monitoring Alarm Systems, which alerts a caregiver if the resident gets out of bed, moves away from their wheelchair or leaves the room without supervision.
Cord-free quiet fall prevention monitors and sensor pads help to reduce entanglement and tripping hazards, the company said. The monitor can be placed in the hallway or above the bed.
The PrimeGuard monitor can be used with the Quiet CordLess® Resident monitor with bed sensor pad, wheelchair sensor pad and/or pressure sensing floor mat. There is "off" switch, and other features include low-battery notification and a protective boot to prevent monitor damage.
The company's bed sensor pad (CLBED-SP10X30 ) and chair sensor pads (CLCH-SP10X15) are both cordless.