January 25, 2017
Nursing book examines non-hospital careers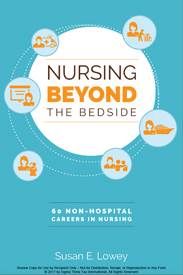 Nursing Beyond The Bedside: 60 Non-Hospital Careers in Nursing
The new book "Nursing Beyond the Bedside: 60 Non-Hospital Careers in Nursing" by Susan E. Lowey, Ph.D., RN, CHPN, provides nurses with information on more career opportunities.
Fields such as telemedicine nursing, military nursing and domestic violence nursing are explored. Each field includes a basic description, typical work hours or certifications needed, and testimonies from nurses in the particular field.
"The nursing profession often loses qualified individuals because they are not aware of the non-traditional opportunities available for nursing practice," Lowey said. "My hope is that 'Nursing Beyond the Bedside' acts as a guide for those pursuing a nursing education or nursing professionals looking to make a career change, ultimately helping them find a nursing job right for them."
The book, published by Honor Society of Nursing, Sigma Theta Tau International, is available at http://www.nursingknowledge.org/sttibooks.