December 02, 2014
New weather and environmental meter introduced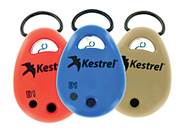 New weather and environmental meter introduced
Nielsen-Kellerman has announced the upcoming release of the Kestrel DROP® Wireless Environmental Data Loggers, which connect via Bluetooth® Smart to a user's iPhone, iPod or iPad to view, log and chart captured environmental data.
The Kestrel DROPS are waterproof data loggers that let users monitor environmental conditions. They can be placed in multiple locations, including in water. Users, such as environmental or facility managers, can then use the Kestrel Connect app to share real-time data.
The three DROPS can measure temperature, humidity, heat index, density altitude, barometric pressure or moisture content.
"From measuring environmental data during cargo transport to conditions in the field for military training to feeling secure about the climate conditions in any room in your home or office building, we want to make sure you're able to measure all of these conditions even when you're physically not there," said NK CEO Alix James.