March 01, 2016
New washer released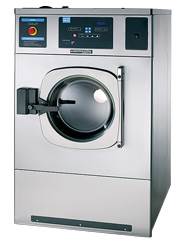 Continental Washer
Continental Girbau Inc. has added a new 70-pound capacity G-Flex Washer to its advanced line of hard-mount flexible-speed washers.
The company's G-Flex line also includes 40- and 55-pound capacity models.
"G-Flex Washers deliver the flexibility of six programmable extract speeds, including 100, 140 and 200 G-force, at an affordable value," said Joel Jorgensen, Continental vice president of sales and customer services. Big washers are in demand, he said, and the 70-pound capacity model offers significantly more capacity than the 55-pound model.
The G-Flex Washers can also operate on lesser foundations. They generate extract speeds reaching 200 G-force, while most other hard-mount washers reach speeds of 75-100 G-force.
Operators can select a program number and press start, and wash temperature, water levels, cycle times and G-force extra all can be individually programmed.