April 26, 2017
New thermometers calibrated for freezers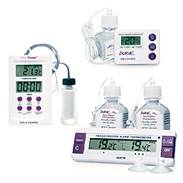 Electronic thermometers, SP Scienceware
H-B Instrument - SP Scienceware now stocks electronic verification thermometers for freezers, refrigerators and incubators.
Models are offered in dual zone, single or multiple displays, the company said. The thermometers can give temperature verification without the risk of contamination.
"Better service for our customers is our top priority, so offering thermometers calibrated at the most frequently requested points saves users both time and money," explains Laura Geenen, Director of Product Management for SP Scienceware. "Rather than purchasing a thermometer calibrated at general points and sending it in for custom calibration, customers can now order the temperature range and calibration points specific to these common applications right off-the-shelf."
H-B Instrument brand supplies also include hydrometers, ice buckets, scoops and spoons. SP Scienceware is a division of Warminster, PA-based SP Industries, which also includes SP Ableware aids for daily living.