July 05, 2017
New scooters introduced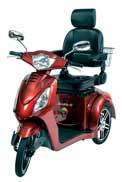 Drive scooter
Drive DeVilbiss Healthcare added the ZooMe-R 3- and 4- Wheel Recreational Scooters to its Power Mobility product line.
The scooter offers many features, such as a rear storage basket, a locked underseat storage space, hub-driven motors, turn signals and an alarm system with key fob for arming and disarming.
The scooter can support up to 500 pounds. It can also reach maximum speeds of 15 mph and drive up to 45 miles.
The warranties for the scooter include three years for the frame, 12 months for the electronics and six months for the batteries.