July 12, 2016
New front-load washer debuts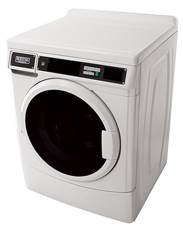 Maytag frontload washer
Maytag® Commercial Laundry's Single-Load, Front-Load Washer debuted this week, with executives noting its dependability and enhanced drive.
The machine uses around 10.7 gallons of water per cycle and has advanced spin technology with more accurate cycle times, said Maytag Commercial Laundry General Manager Trey Northrup.
Other features include a triple-lip seal with garter springs that keeps moisture away from the shaft, and a durable shaft sleeve designed to eliminate shaft wear. It comes with a five-year limited warranty.