February 22, 2017
New fabric softener released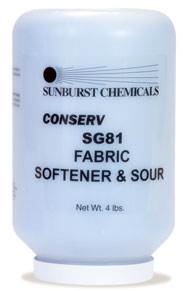 Sunburst Chemicals Conserv Fabric Softener
Sunburst Chemicals has created Conserv SG81 Fabric Softener and Sour, a new combination for commercial laundries. It is specifically designed for hard water conditions and to help prevent hard water deposits from building up.
Conserv SG81 reduces drying time, the company said, and features a mix of laundry softener, conditioner and neutralizing ingredients.
It is part of Sunburst's Conserv Energy System laundry product line.