September 01, 2015
New cart covers add appeal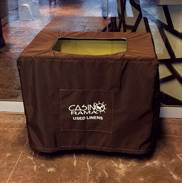 Tingue Cart Cover CasinoRama
Laundry product supplier Tingue, Brown & Co. have created branded utility cart covers to help facilities add pizzazz.
The covers help present a clean image when in view of guests and were developed for housekeeping, maintenance and aquatics managers at spas, resorts or other properties.
They are custom-sized and can be sewn to fit around any size utility cart.
The branded cart covers are available in a wide range of colors and are manufactured in the company's Peachtree City, GA, facility.