January 03, 2018
New air purifier assesses air vitals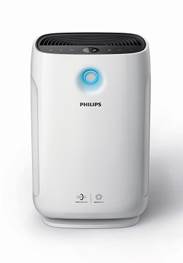 HomeLab
Philips and HomeLab announced the HomeLab Healthy Home Program that provides the ability to monitor indoor air.
Using AeraSense technology, Philips Air Purifiers can automatically monitor, react and purify indoor air, capturing 99.97% of particles, the company said. It has a numerical index, corresponding color ring and app that allows changes to indoor air conditions.
By using the device, plans can include upgrading ventilation or removing allergens. HomeLab's evaluators look at reports and answer questions.
"Poor indoor air quality has many root causes with no single solution," said Nate Bellino, founder and CEO of HomeLab. "The Healthy Home Program solves the issue by identifying pollutants, providing a prioritized plan for removing them, and ongoing expert guidance."