October 01, 2013
Medline introduces new wound dressings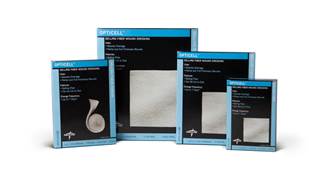 Medline introduces new wound dressings
Medline Industries Inc. has launched new wound dressings, the Opticell™ and Opticell™ Ag+ with silver.
Opticell can be used on wounds of all drainage levels and wicks fluids into the dressing, the company said. It has absorbent fibers that transforms into a gel, making it possible to manage drainage and remove dead tissue. It can be placed under a four-layer wrap for a week. The Opticell AG+ dressings contain ionic silver.
Opticell was featured at the Symposium on Advanced Wound Care Fall 2013 conference in Las Vegas.