November 08, 2017
Medical device launched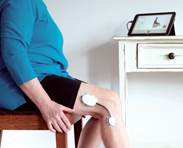 Claris Reflex
Claris Healthcare, a Washington-based company, has launched Claris Reflex, a medical device and patient monitoring system for orthopedic needs.
Claris Reflex offers coaching at home for total knee replacement patients, offering an option for those in a Bundled Payment or Comprehensive Joint Replacement program. Patients are given a wearable sensor and tablet.
Features include an activity tracking sensor that monitors the extension of the patient's knee and icing temperature, along with a patient dashboard where providers can be alerted to any issues. Patients and providers can send text messages or videos.