May 05, 2015
Med-Miser introduces bed line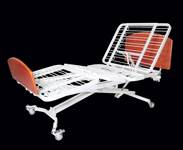 Med Mizer Comfort Wide Series EX5000
Med-Mizer has introduced the Comfort Bed series of beds.
There are three beds in the line, including the RetractaBed® EX5OOO Model. It features an ability to reduce skin shear and repositioning. It has extra position in order to make the bed thinner so that if a side bar is attached, it can still pass through doors. Other features include wall bumpers and embedded bed controls.
The other two beds in the line are the EX6000 with a 600-pound capacity, and EX8000 with an 800-pound capacity.