May 15, 2013
McKnight's 2013 Tech Awards open for entries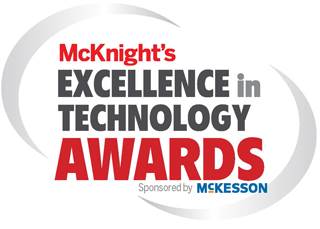 McKnight's 2013 Tech Awards open for entries
McKnight's has launched its second annual McKnight's Excellence in Technology Awards.
The categories are: Quality through Technology, Dignity through Technology, Innovator of the Year, Transitions and the High Tech/High Touch award.
The awards are open at no cost to skilled nursing and assisted living facilities, and continuing care retirement communities.
The honors are not limited to projects involving complex computer systems or sophisticated devices. Any technology-related initiative will be considered by the contest's independent judges.
"What seemed to stand out from last year's winners was the fact that they used technology to come up with a solution and then fortified their outcomes with loving care and personal touches," says McKnight's Editor James M. Berklan.
Submissions will be accepted through July 12. McKesson is this year's sponsor. Click here to see the entry form.