January 27, 2015
Libman promotes disinfecting products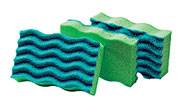 Libman promotes disinfecting products
The Libman Company offers antibacterial and other disinfecting items for providers fighting cold and flu season.
These include an antibacterial sponge that can absorb three times more water than a traditional cellulose sponge, and an all-purpose microfiber cloth that can be used on countertops with rubbing alcohol. The cloth is machine washable.
The company also has a new Freedom Spray Mop. Products are sold online and at stores that include Home Depot, Target and WalMart.