July 22, 2014
Larson Electronics debuts mobile power distribution system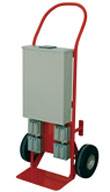 Larson Electronics Power Distribution System
The Larson Electronics MDC-240-100MB-8X120 temporary power distribution system is now available for those who need to use power sources independently of a work area. The unit works for those doing maintenance and cleaning in hazardous areas.
The portable transformer is designed to operate with 240V 60Hz, which it then steps down to 120V, the company said. The power distribution system on this portable substation makes 120VAC available with eight 20 amp, 120 volt GFCI protected 5-20 duplex receptacles with weatherproof covers. It has two run-flat tires and a cart-style mounting platform.
"These systems are ideal for indoor and outdoor use applications such as construction sites, plant maintenance, plant turnarounds, hazardous location operations, shows, exhibits, and shipyard operations," said spokesman Rob Bresnahan.