December 22, 2014
Joerns RecoverCare releases microclimate overlay system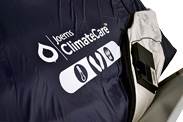 New mattress coverlet system
Joerns RecoverCare has launched ClimateCare™, a mattress coverlet system.
ClimateCare should help with the root causes of tissue breakdown, the company said, by adding microclimate management to therapy support surfaces. The product should pull excess moisture and heat away from the patient's skin.
"Microclimate management is recognized as a key factor in optimizing the skin's condition and avoiding the damaging effects of increased moisture and temperature on the skin," notes Julia Melendez, RN, BSN, JD, CWOCN, National Clinical Director, Joerns RecoverCare.
ClimateCare is available in 36-inch, 42-inch and 48-inch widths. It provides a moisture vapor transfer rate of 130 g/m2/hr. It works with systems that include the Joerns RecoverCare Dolphin® Fluid Immersion Simulation® (FIS) System and the P.R.O. Matt® Plus.