March 31, 2015
Hydration device debuts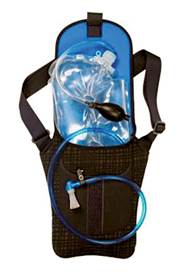 OGWA
OGWA Corp. created a hydration system with a pressurized fluid reservoir with a pressure-resistant leakproof valve to spray high volumes of fluid into the mouth.
The reservoir contains two chambers — one for fluid, the other for pressurized air created by a manually operated pump. The 100-ounce bladder provides "spray to drink" convenience; its internal partition prevents the reservoir from ballooning out of shape.
"Spraying allows patients to take in much more water much more quickly with much less work. It's like having a private water fountain," says OGWA CEO Harlan Gardiner.
The device may help elderly residents who need hydration, the company said, especially for those too weak to pick up cups or suck on straws. The fluid amount won't induce aspiration, the company said, and can both save nurses time with the resident and lessen frustration.