June 02, 2015
Hearing app launched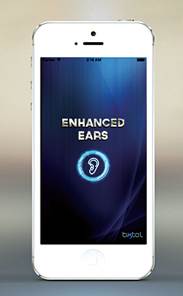 Enhanced Ears
Mobile applications company Bxtel LLC has released Enhanced Ears, a new app that enables an Apple iPhone to function like a hearing aid.
The Enhanced Ears iPhone app is an affordable, discreet and effective alternative to hearing aids for those with mild to moderate hearing loss, the company said.
Enhanced Ears guides a user through a hearing test. Then, the app calibrates hearing aid functionality. Once calibrated, users tap the "on" switch and point the device's microphone in the direction of what they want to hear.
The app is compatible with iPhone, iPad and iPod touch. Enhanced Ears is available for $39.99. There are free upgrades, and users can calibrate the app.