January 21, 2015
Handheld bladder scanner approved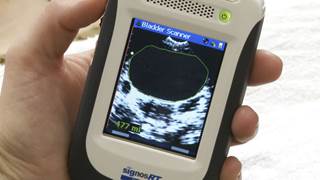 Handheld bladder scanner approved
Signostics has received federal to launch its handheld bladder scanner.
The SignosRT Bladder Scanner is a portable device designed to use ultrasound technology to automatically and non-invasively calculate bladder volume. The unit helps providers identify patients who should be equipped with a catheter.
The device doesn't require calibration. All that's needed is to scan the bladder using the phone-size device and the measurement is displayed on the screen. There isn't a need to have professional ultrasound technicians perform the procedure and just about anyone can be easily taught how to use the device, according to the firm.