May 10, 2017
GeoPendant added to nurse call product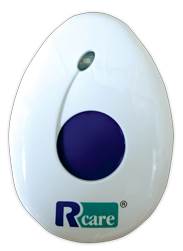 RCare GeoPendant
RCare announced a new "safe zone" feature for its nurse call last week during the Argentum Senior Living Executive Conference.
The GeoPendant allows users to designate safe perimeter areas for residents, and become alerted if a person presses the button or leaves the safe zone.
Executives noted the pendant can reduce loud or noisy alarms.
"It's especially perfect for mixed populations," said RCare Founder and CEO Myron Kowal. "It's nice to have a customizable safety feature instead of locking every door in the entire community. The GeoPendant enables independence and dignity."