April 18, 2017
Flu test receives FDA clearance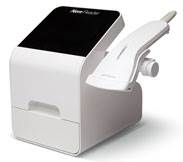 Alere Reader wScan LFace
Alere Inc. has announced that its Alere™ Reader has received 510(k) marketing clearance from the U.S. Food and Drug Administration.
The Alere Reader was released in Europe and select Asian markets in August. It is used as a diagnostic platform for influenza. The reader's reformulated test card is the first rapid antigen influenza test to achieve 510(k) clearance as a Class II assay under new FDA reclassification requirements, the company noted.
"The Alere BinaxNOW Influenza A & B Card 2 test with the Alere Reader, improves what is already a leading rapid testing solution for influenza diagnosis in two key ways: by eliminating operator subjectivity and by connecting test results with information management systems," said Avi Pelossof, Alere Global President of Infectious Disease.
Alere's flu portfolio also includes Alere™ i Influenza A & B, a molecular flu test, and the Alere™ Influenza A & B dipstick test.