February 07, 2017
Flooring option debuts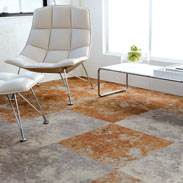 JJ Flooring
J+J Flooring Group's Kinetex has introduced Foundry as a new floor covering.
Foundry is designed to offer durability, comfort, acoustics, safety and sustainability, the company said. It comes with PreFix, J+J's pre-applied releasable adhesive.
Foundry is constructed using Universal Fibers polyester applied pattern and is a high-traction product certified by the National Floor Safety Institute.