August 02, 2016
Flare truck designed for laundry workers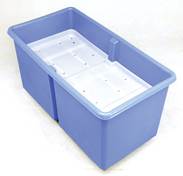 MODRoto 25P Series Spring Loaded Laundry Cart
Laundry cart manufacturer MODRoto has debuted its 25P-24 flare truck, designed to keep workers from bending down and reaching into a cart.
The spring-loaded platform sinks when loaded with laundry and rises as laundry is removed. This allows workers to stay at a safe height, the company said.
The platform is waterproof and resistant to chemicals, and is ideal for those transferring large amounts of laundry, especially when it's wet.
The cart was designed as a complement to the company's larger 25P-30 ergonomic flare truck. The 25P-24 spans the same 66 inches long x 35 inches wide but stands 31 inches high.