September 13, 2016
FDA nutrition guide released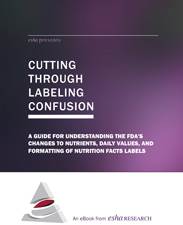 Cutting through labeling confusion
ESHA Research has published a new guide for understanding the FDA's changes the Nutrition Facts and Supplement Facts labels called "Cutting Through Labeling Confusion | New FDA Nutrition Facts Label Changes Guide."
The eBook addresses regulations related to updated Nutrition Facts labels.
"There have been many significant updates to label nutrients and daily values," stated Craig Bennett, CEO at ESHA Research. "This eBook focuses on the key changes in nutrients and Daily Values that apply to both labels."
ESHA's eBook is free and available for download on the company's website.