August 02, 2017
Datalogic unveils mobile computer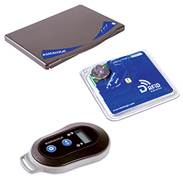 Datalogics
Datalogic recently released its new Memor™ X3 HC mobile computer.
The device comes with features such as an advanced 2D imager, Bluetooth wireless technology and Wavelink Avalanche device management.
It is resistant to strong disinfecting healthcare solutions, has a sealed constructed and can withhold a drop from up to 4 feet.
"Data capture in healthcare ensures a higher level of care, proper medication distribution and safety for patients and providers," said Paul Timmerwilke, general manager for the healthcare industry unit at Datalogic. "The Memor X3 HC mobile computer brings together Datalogic's extensive data collection experience in a chemical resistant housing that assists in the prevention of infection and cross-contamination."
The device is targeted toward use in patient bedside care, laboratories, pharmacies, admitting and accounting.
Datalogic works in automatic data capture and industrial automation markets. It is based in Bologna, Italy.