February 12, 2014
BlueDrop highlights water coolers for seniors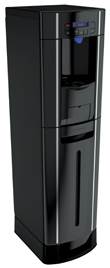 BlueDrop highlights water coolers for seniors
Bluedrop LLC, a water filtration and vending services firm, announced a change in leadership, and is showcasing its products for senior living facilities.
Mark Dickinson, one of the company's original shareholders, and Brendan Dickinson, became majority owners in January. Bluedrop offers water and ice equipment, such as purified office water coolers. Water coolers with hot/cold water functionality and digital push buttons instead of levers assure seniors do not accidentally overfill water.
Additionally, a two-button system is needed to activate hot water, which means residents are less likely to be burned, the company noted.