December 13, 2017
Bathroom tissue for commercial use debuts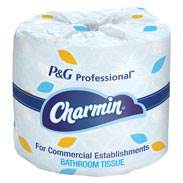 Charmin
P&G Professional has announced the launch of its new Charmin® Bathroom Tissue for Commercial Use. The product is considered ideal for public areas in senior facilities, such as guest bathrooms or dining areas.
The 450-sheet rolls are 40% thicker and 40% more absorbent, the company said. A video can be seen here.
A 2017 P&G Professional Consumer Cleaning Insights Survey found that 77% of people said it was a "pleasant surprise" to find quality toilet tissue in their hotel room.