January 26, 2016
Antimicrobial film dressing receives FDA clearance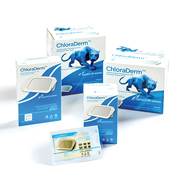 Chloraderm
entrotech life sciences said it has received FDA 510k clearance of ChloraDerm™, which is a product for wound and catheter site protection.
The film dressing is the first to include the Chlorhexidine Advantage™; a safe, colophony-and acid-free chlorhexidine matrix, the company said.
"Whether it is our lifesaving combat medical products or bedside nursing solutions, we discover new ways to save lives. ChloraDerm™ helps institutions achieve their goals of improving outcomes while lowering costs," said ELS CEO Jim McGuire.
ChloraDerm™ is used to cover and secure primary dressings and protect wounds caused by percutaneous medical devices and achieves >4 Log10 reduction against yeasts. The extended use of intravenous catheters can lead to problems with bloodstream infections.