October 06, 2014
Acuity Brands introduces new LED flush mounts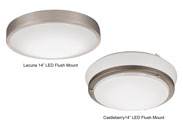 Lithonia LED Flush Mount
Acuity Brands, Inc. has introduced six additional designs to its line of new generation LED flush mounts from Lithonia Lighting®.
The luminaires offer up to 84% energy savings over traditional incandescent sources. The flush-mount luminaries do not require lamps, making it easier to install for light commercial or residential use, Acuity said.
LED flush mount products are compatible with all standard boxes and come with installation hardware, the company said. The fixtures have a low-profile, transitional design that can mount to ceilings or walls and can dim down to 10%. They are expected to last up to 50,000 hours.
"LED flush mount solutions are a great fit for applications such as multi-family residences, hotels and assisted living facilities because the fixtures are capable of operating 24/7 and require little maintenance," said Ryan Ramaker, Acuity Brands Lighting, Director, Residential Indoor Products.