September 23, 2014
Accutech Security releases wander management system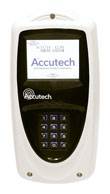 Accutech Security releases wander management system

Accutech Security has released its new ResidentGuard LS 2400 wander management system, which can be used in senior living settings.

The LS2400 system is a low-cost wander system that provides resident ID, loiter and door-ajar monitoring, low-tag battery and several more alerts without the need for a computer, the company said. It can give resident identification and reporting at the door or at a nurses' station with optional LCD displays.

Other functions include on-screen reporting and ability to configure multiple zones from a single display. It uses a wider RF range that minimizes the need for an extra antenna for double door applications.