April 14, 2015
Accutech announces wander management system integration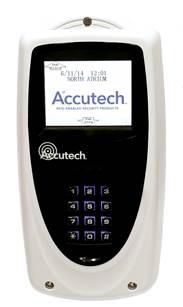 Accutech Control Pad
Accutech Security announced Response Care has developed an integration with the ResidentGuard LS 2400 wandering system.
Users can now report directly on Response Care software, and alerts can be sent to Response Care mobile devices, along with photos of residents, the company said.
The LS 2400 wander management solution from Accutech Security is a low-cost wander system that provides resident ID, loiter and door-ajar monitoring, low tag battery and alerts, according to company officials.
"We're seeing a consolidation of alerting systems in the healthcare industry," said Chris Konicek, marketing director at Accutech Security. "Communities aren't interested in three different computers for three different systems."