June 21, 2016
60-pound capacity machine added to washer line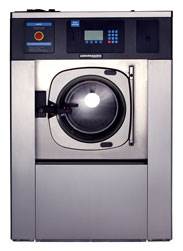 Continental Girbau's new 60-pound capacity soft-mount E-Series Washer
Continental Girbau Inc. has added a new 60-pound capacity machine to its E-Series line of commercial washer-extractors.
The new model will replace the E-Series' 55-pound unit and will include several technology and design improvements. It will be the first machine produced by the company with a 60-pound capacity.
The washer includes 20 pre-programed cycles and allows users to customize their own cycles based on water temperature, rotation speed, wash time and a wide range of other specifications. A SmartLoad feature is also included to inform operators when the machine is loaded to 25%, 50% or 100% of its capacity.
All E-series washers produce up to a 400 G-force extract, which decreases dry times by up to 50% compared to other machines, according to the company. The machines also incorporate a soft-mount design, eliminating the need for reinforced foundations or metal mounting bases, allowing them to be easily relocated.
The E-series line also includes 20- , 30- , 40- , 90- ,130- and 225-pound capacity models.