October 01, 2016
Where are they now: Boston Home Wheelchair Enhancement Center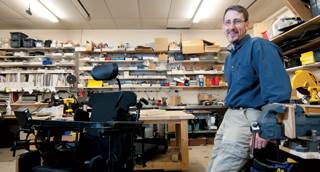 Boston Home Wheelchair Enhancement Center
A generous donation a few years ago has made the Boston Home even more service-oriented for its residents. The gift? A 3-D printer.
The machine would be the envy of many organizations. For Wheelchair Enhancement Center Director Don Fredette (above), the printer has allowed him to design new items for residents.
"You can do any shape imaginable if you can put it into a CAD [computer-aided design] program," he said. "We can specifically design tops for someone with a contracted hand or weakness in the hand that makes driving that wheelchair easier. I've used it quite a bit."
The Boston Home won the Gold Award in the Innovator of the Year category in the 2012 McKnight's Technology Awards.
Another recent project involves working with an MIT student on how residents can use their iPads and their mouths to make their wheelchairs communicate. The provider also wants to create housing to serve those with physical disabilities.
Such innovation is reflective of a commitment to helping those in wheelchairs thrive, said development director Florence Rawls.
"It's a total commitment to empowering people in wheelchairs to lead as full a life as they can possibly lead," she said.