January 01, 2013
Welcome to The Club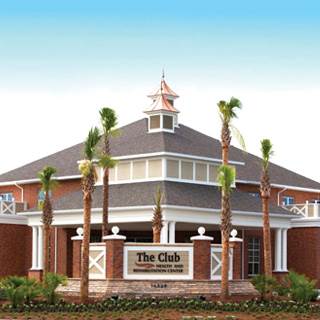 The Club Health and Rehabilitation Center
When word gets out about the elegant, resort-style atmosphere at The Club Health and Rehabilitation Center, post-surgical patients may start lining up outside the door. At least that is the vision executives at Greystone Healthcare Management have for the upscale health center.
Located in the active retirement community of The Villages in central Florida, The Club is a recently completed short-term rehab facility focused on specialized orthopedic, cardiac and stroke recovery. While it offers a full complement of clinical services, such as physical, occupational and speech therapy, it is the plush surroundings that have attracted the most notice.
The 51,000-square-foot facility offers 60 private suites. It is not exclusive for the community famous for its golf carts and social events. It is open to any patient looking for a "medical spa" experience, says Chris Masterson, senior vice president of clinical operations for Greystone.
"We are trying to achieve a medical oasis for the individual looking to rehabilitate quickly after a medical issue and who needs to regain their strength before resuming their normal activities," he says. "We also cater to the individuals that have had a surgery and need skilled therapy services."
The design is part of a trend known as "Resident Centered Culture Change," in which facilities focus on the individual and create more personal space "as opposed to spaces that become all things to all people," says Bo Russ, president and founding partner of Architectural Concepts.
"The design goals for this project were to focus on the individual and provide each resident with choices not found in the typical nursing facility," Russ says. "Greystone wanted to create a facility that was a hospitality model centered on catered living.
All of the program spaces, ranging from to dining to therapy to activities to relaxation, he says, are focused on a much smaller scale than the traditional nursing facility.
"Our design allows the resident immediate access to all of the social areas of the building," he says. "We have removed the traditional corridor system so residents can access a living room or dining room much like their own home. This allows the staff to be closer to the residents, which in turns supports the interaction we seek."
Taking a page from the hotel industry, all rooms have private bathrooms and "mini suites," which provide space for a family member or friend to sleep over or for social gatherings in a secluded environment.
Two large therapy/rehab gyms and smaller intimate areas for speech therapy have been equipped with the latest in rehab technology, including equipment from HUR Health and Fitness, NuSteps, Accelerated Care Plus (ACP) and Life Trails. Two courtyards with large water areas (including a "babbling brook") offer a tranquil area to meet between their therapy sessions.
The resident-centered design also includes smaller dining areas.
"We've placed country kitchens throughout the facility, with a bistro for easy grab-and-go food items, as well as made-to-order deli style foods," Masterson says.
_____
Lessons Learned:
1 - An elegant, resort-style atmosphere is a key attraction for the growing post-acute care rehab environment 2 -
2 - Privacy and intimacy should be emphasized in modern rehab facilities, including "mini suites" for guest sleepovers
3 - Clinical elements such as nursing stations should resemble concierge desks or be kept out of plain sight.