August 02, 2011
Washington owes Medicaid programs $4 billion, govs say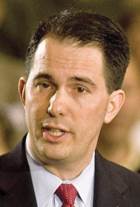 WI Gov. Scott Walker

With federal lawmakers trying to figure out ways to cut expenditures, balance the budget and reduce the national deficit, funding to states — and healthcare providers in particular — has frequently been targeted.

The states are striking back. Recently, the National Governors Association wrote a letter asking for $4 billion from the federal government because the latter wrongfully denied disabled individuals Medicare coverage over the past 30 years.

In the letter to Health and Human Services Secretary Kathleen Sebelius, the NGA claims that disabled people were denied Medicare benefits because of mistakes made by the Social Security Administration. As a result, state Medicaid programs improperly had to foot the bill. The SSA has acknowledged the mistakes and finished a 10-year program to retroactively correct the errors.

But that's not enough, the governors say.

"Unfortunately, no effort has been made to discharge Medicare's liability for the services provided and paid for through state Medicaid programs," the NGA letter stated.

The governors propose payment to the states in the form of credits to the states to be used as the state share of current Medicaid expenditures. "This method of satisfying the federal liability would assure that the federal expenditure for correcting the problem would benefit current Medicaid programs," they said.

Gov. Scott Walker (R-WI), chair of the NGA's Health and Human Services Committee, and Gov. John Kitzhaber (D-OR), the committee's vice chairman, signed the July 1 letter.