March 09, 2016
Ultra High therapy billing prompts investigation, CMS says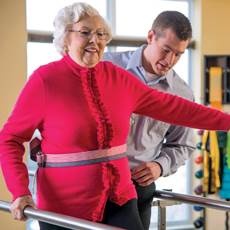 Ultra High RUGs accounted for $16.6 billion in Medicare payments in 2013
Concerns over skilled nursing facility residents receiving the highest levels of therapy in huge amounts have driven the Centers for Medicare & Medicaid Services to turn the issue over to recovery audit contractors, CMS officials said in a new report.
The Skilled Nursing Facility Utilization and Payment Public Use File, released Wednesday, shows Ultra High therapy billing accounted for the highest Medicare payments to SNFs, total therapy days, beneficiaries served and average Medicare payment per beneficiary in 2013.
The three Ultra High resource utilization groups amounted to more than $16.6 billion in Medicare payments, and close to 36 million total therapy days provided during 2013. The Very High RUG categories followed with $5.7 billion in payments, and 16 million therapy days.
Many beneficiaries in the Ultra High and Very High RUGs barely made it over thresholds to get into those categories. More than 20% of facilities provided Ultra High and Very High therapy within 10 minutes of the minimum threshold, according to the report. Payments for these RUGs often exceed payments for other categories by 25%, CMS said.
"CMS strives to ensure that patient need, rather than payment system incentives, are driving the provision of therapy services," said Shantanu Agrawal, M.D., deputy administrator for program integrity and director of the Center for Program Integrity at CMS, in a news release. "These concerns have prompted us to refer this issue to the Recovery Audit Contractors (RAC) for further investigation, and our hope is that data transparency will facilitate real changes."
In September, the U.S. Department of Health and Human Services called for a crackdown of therapy overbilling in order to weed out exploitative providers and provide care that is "better aligned with beneficiaries' care needs."
The SNF utilization and payment report, culled from Medicare claims data from 15,055 SNFs and more than 2.5 million stays, also compared SNF costs and utilizations by geographic area. The average standardized payment amount per SNF stay was $10,919 in 2013, with an average length of stay of 28 days.
Indiana, Texas, California and several Southeastern states had the highest average standardized Medicare payment, while Alaska, Maine, Iowa, Minnesota and North Dakota had the lowest.
Click here to see the full SNF payment and utilization data set, which can be broken down by individual provider, RUG, state, and provider therapy minutes.