February 01, 2011
Trailblazer dishes it out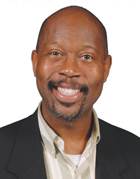 Courtney Lyder, Dean, UCLA School of Nursing
Courtney Lyder tends to leave his mark wherever he goes. That might even mean a smudge of tomato paste. A pizza ("The Courtney") is named after him at The Glendon Bar & Kitchen in Los Angeles.
"The secret is in the sauce," says Lyder, who can now add pizza chef to his long line of credentials and awards.
The internationally known wound care expert has a reputation for not shying away from a good challenge. Lyder is a trailblazer. A professor and dean at the University of California, Los Angeles School of Nursing, he happens to be the first black dean at UCLA and the first minority male dean of a school of nursing in the United States.
Early on, he assisted in validating the Braden Scale, a widely used tool for predicting pressure ulcers. Later, he worked to improve its effectiveness in people of color. In recent years, he helped revise the guidance on F-tag 314 (pressure ulcers) for the Centers for Medicare & Medicaid Services.
His outspokenness has chafed some in the nursing profession. But he remains unshakeable in his belief in pressure ulcer prevention—especially in blacks and Hispanics, whose wounds can often go undetected.
"The day there are no more avoidable ulcers, my work has been accomplished," he says.
Colleagues believe he has already made major contributions to the field of wound care.
"In terms of public policy, he has effectively worked with CMS to drive the notion of the importance of prevention and the importance of education for prevention," says fellow researcher Elizabeth Ayello, who teaches nursing at Excelsior College in Albany, NY.
The fun-loving Lyder also is considered an engaging lecturer. "You never want to speak after him," notes Dr. Dan Berlowitz.
Lyder, who says he hopes to use his distinguished position at UCLA to inspire minority students, feels that he became fearless as a result of life experiences.
His education began, in a sense, at 13 when he and his family moved from Trinidad & Tobago in the West Indies. He attended boarding school in Massachusetts, where he was exposed to white students and winter sports for the first time. In such an environment, where he joined the cross-country ski team, he learned to feel comfortable in his own skin. That has helped, he said, in the white, female-dominated field of nursing.
Lyder did not plan to become a nurse, much less devote his life to wound care. His life changed, he says, during his first year of nursing school. It was then he had the chance to do research with Barbara Braden, who founded the Braden Scale. His professor encouraged him to get his doctorate in nursing, not psychology.
Today, the 44-year-old, who says he sleeps just four hours a night and calls himself a Buddhist, says he is at his dream job. The single dad has two sons: Jae, 28, an assistant professor of art history; and Mark, 26, who is working on his MBA. Besides work, he loves the water, reading and, well, good food. He jokes that he finally impressed his mother when he sent her a copy of the menu with his pizza on it.
"That was the first time she was proud of me," he says.
Many wound care professionals might find that hard to swallow.
Resume
1989
Receives B.A. in psychology and biology from Beloit College
1991
Earns Doctor of Nursing degree from Rush University College of Nursing
1994
Serves as gerontological nurse practitioner at Yale New Haven Hospital
1998
Gives presentation to nursing officers of the British Department of Health on pressure ulcer prevention in African-American elders
2001
Serves on panel to review and revise F-tag 314 (pressure ulcers) for Centers for Medicare &
Medicaid Services
2003
Becomes professor of nursing at University of Virginia Medical Center
2008
Appointed dean and professor of the School of Nursing at the University of California, Los Angeles